Where to stay and eat in Buenos Aires
The complete guide to the best hotels and restaurants of "Paris of South America"...
Source: Reader's Digest
05.08.2019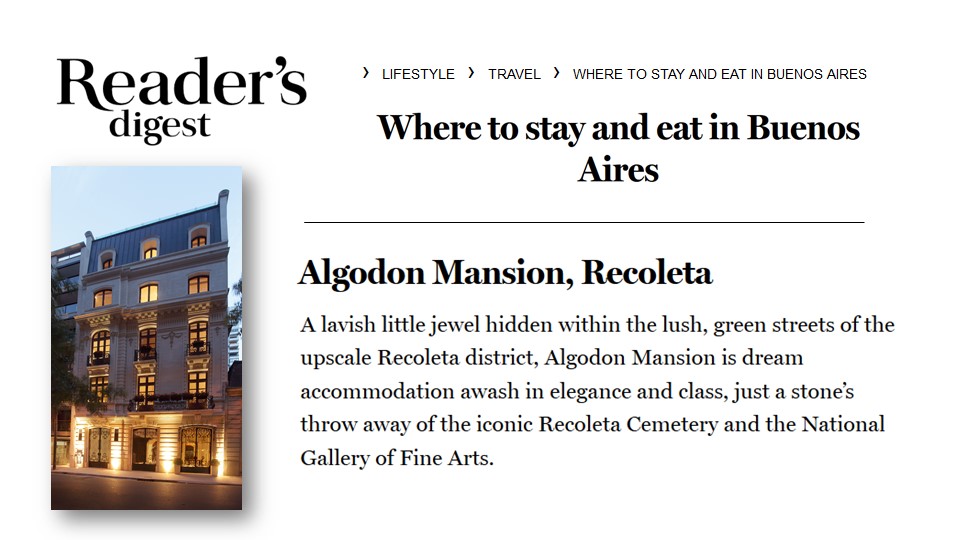 Algodon Mansion, Recoleta

A lavish little jewel hidden within the lush, green streets of the upscale Recoleta district, Algodon Mansion is dream accommodation awash in elegance and class, just a stone's throw away of the iconic Recoleta Cemetery and the National Gallery of Fine Arts.

From the moment you step through the grand gate and into the white marble foyer, you know you're in good hands. You'll be welcomed by the incredibly professional, kind and attentive staff who will go out of their way to help you get the most out of your stay, whether it's directing you to the nearest bureau de exchange or pointing you to the best choripan in town, their finger is always placed firmly on the pulse of the city.

After you're done sightseeing for the day, you can relax in one of their luxuriously spacious suites boasting state-of-the-art bathrooms and ridiculously comfy beds, enjoy a moment of self indulgence with a facial or a massage at the spa or just wind down with a glass of sumptuous Bonarda (produced in their very own vineyards!) in the elegant downstairs lounge to the sounds of Miles Davis. Pure bliss!

Best for: special occasions, a touch of self-indulgence and fantastic wine
External Link: https://www.readersdigest.co.uk/lifestyle/travel/where-to-st...