Algodon Group's Designer Fashion and Leather Accessories Label "Gaucho - Buenos Aires" Featured in Forbes Magazine Argentina
Source: Algodon Group
12.21.2018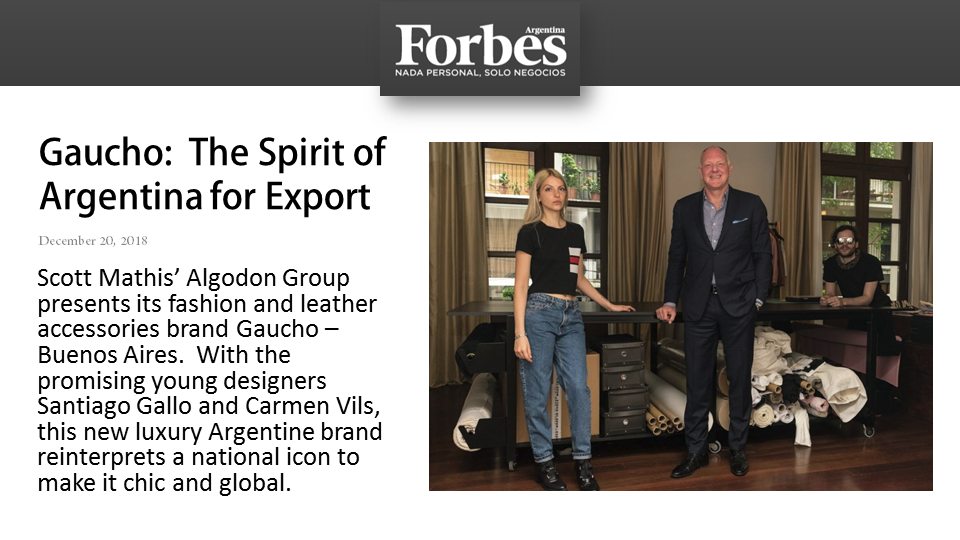 NEW YORK, NY -- Dec. 21, 2018 -- Algodon Group, Inc. (OTCQB: VINO), a collection of luxury assets, real estate holdings and premium wines in Argentina, shared news today of having been featured in Forbes Magazine Argentina. The article, Gaucho: Exporting the Argentine Spirit, provides a current overview of Gaucho – Buenos Aires, along with a Q & A with CEO and Founder of Algodon Group, Scott Mathis.
"We are incredibly pleased to have Gaucho – Buenos Aires featured in such a highly prestigious publication," said Mathis, "and we're excited for what the future has in store for our entire organization."
Gaucho - Buenos Aires embodies the spirit of Argentina -- its grand history, its folklore and its revival as a global center of luxury. Inspired by the sophisticated elegance of the great European maisons, Gaucho - Buenos Aires is also rooted in the traditions of native, nomadic culture. With its ambitious couture, ready-to-wear and high-street fashion offering, this is the brand in which Argentine luxury finds its contemporary expression.
Algodon's goal is to reintroduce the world to the grandeurs of the city's elegant past, intertwined with an altogether deeper cultural connection: the strength, honor and integrity of the Gaucho. Seen in the intricate stitching of handmade leather, or the exquisite workmanship of an embossed belt buckle, "Gaucho" style is a world-renowned symbol of Argentine craftsmanship. Blending the quality of a bygone era with a sophisticated, modern, global outlook, the brand's beautifully handcrafted clothing and accessories herald the birth of Argentina's finest designer label.

Please visit GauchoBuenosAires.com today to sign up for insider fashion news, behind-the-brand stories, exclusive invitations, and special access to wait lists and pre-ordering.

About Algodon Group
For more than ten years, Algodon's mission has been to source and develop opportunities in Argentina's undervalued luxury real estate and consumer marketplace. With our proprietary collection of wine, hospitality, fashion brands, and real estate holdings as a foundation, we seek to build our luxury brand ALGODON®, one of prestige, distinction and elegance. We begin with a focus on the quality and reputation of our award-wining wines, which serve as our ambassador for our luxury lifestyle properties and other real estate assets. As we continue to produce the ultra-fine wines for which we have become recognized, we expect that our reputation for quality will continue to grow and accordingly increase the value of our brand and real estate holdings. Algodon's luxury assets are currently concentrated in Argentina, which we believe represents one of the most undervalued investment sectors in the world today. For more information, please visit www.algodongroup.com.